Fire Safety Professionals, now there is a cost effective way to test commercial smoke detectors using the Smoke Sprayer. Simply secure any brand of aerosol smoke spray to the Smoke Sprayer, attach the Smoke Sprayer adaptor to an extension pole, adjust to the desired angle and spray. The Smoke Sprayer works with virtually any brand of aerosol smoke spray and aerosol air spray can.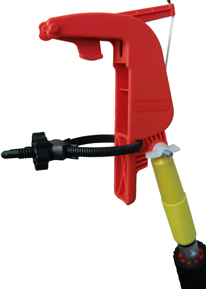 Sprays virtually any smoke spray aerosol

No need for that cumbersome ladder

Angle is adjustable

Simple and easy to use

Securely holds and sprays virtually any aerosol and virtually any angle

Add the Smoke Sprayer to any one of our extension poles

FREE SHIPPING AND HANDLING (within the continental USA)
Why is the price so low...We assemble it here in the USA and all of the parts except the strap are manufactured in the USA. We want every fire safety company in the country to use it. If you are not completely satisfied with the Smoke Sprayer adaptor, return it, and we will refund your money, minus S&H.
We do ship to Canada and International, however, extra shipping charges, customs, and duty Fees apply. Those charges will be sent via email for you to approve before the order is processed. We do NOT markup the charges.