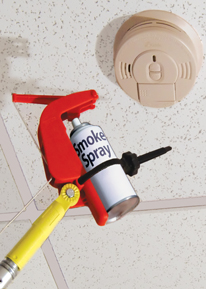 Home
What People are saying
Contact Us
Products:
Smoke Sprayer
Smoke Alarm Test Poles
Flammable Storage Cabinets
Testimonials:
Thank you for your smart thinking on the UPS. The Smoke Sprayer arrived on Friday as planned and I used it on Saturday. It worked great, It cut the time it takes me do my buildings in half and saved a bunch of effort not dragging a ladder around. Thanks again!!
Chris M
The Smoke Sprayers work great. I bought a 24ft telescoping pole and it works just fine in conjunction with your attachment and our "Can of Smoke". I recommend marketing your product to other alarm companies who perform fire inspections in commercial environments. I have a total of $75.00 invested in my setup. Your closest competitor, a manufacturer of specifically designed devices, which basically do the same, come in around $400.00. Some up to $600.00. Good luck with your product.

Casey - MO
I have received the Smoke Sprayer already today and it has exceeded my expectations for quality of construction. It looks like it should work and last for a very long time. I think your product has paid for itself already! I am very pleased. Thanks.

Tom
www.gotchasprayer.com
www.killingwasps.net
www.4mostinnovations.com
www.waspkiller.net
---

Email received: Worked exactly as advertised.

Thank you…Ed L.

---

Email received:

Thank you for your smart thinking on the UPS. The Smoke Sprayer arrived on Friday as planned and I used it on Saturday. It worked great, It cut the time it takes me do my buildings in half and saved a bunch of effort not dragging a ladder around. Thanks again!!

Chris M

---

Email received: The Smoke Sprayers work great. I bought a 24ft telescoping pole and it works just fine in conjunction with your attachment and our "Can of Smoke". I recommend marketing your product to other alarm companies who perform fire inspections in commercial environments. I have a total of $75.00 invested in my setup. Your closest competitor, a manufacturer of specifically designed devices, which basically do the same, come in around $400.00. Some up to $600.00. Good luck with your product.


Casey - MO

---

Email received: It's awesome...It has increased my shot range to at least 30ft.

---

Email received: The sprayer works very well, and I am pleased with the purchase. Here is another use for it that may have a big market. I showed it to the man who does maintenance on my hurricane shutters shutters, and he said he had been trying to find something like the Smoke Sprayer for years. High rise buildings have hurricane shutters on some windows. The wheels at the tops of the shutters really need annual spraying with a lubricant (such as silicone spray). If there is no terrace, one has to lean out the window and stretch as high as you can. The Smoke Sprayer on an extension pole makes the job very easy. This can also be used by people with security shutters protecting store fronts who wish to avoid climbing ladders. Florida is loaded with people who have hurricane shutters on their houses that would benefit from annual maintenance with silicone spray using the Smoke Sprayer. Please send a brochure to my shutter man.

Leonard - FL

---

Email received: Your product worked well for our needs. Thanks for producing a reasonably priced solution to our problem.

Kevin

---

Email received: I have received the Smoke Sprayer already today and it has exceeded my expectations for quality of construction. It looks like it should work and last for a very long time. I think your product has paid for itself already! I am very pleased. Thanks.

Tom

---

Email received: I am impressed with the Smoke Sprayer. We are thrilled with it, as it addresses our very specific needs. It is unique, yet simple to use and 100% effective in addressing the situation for which we made the purchase. We would recommend it to anyone.

Ron

---

Email received: I received the Smoke Sprayer last week and it works great. I have never seen anything like your product in stores.


Best Wishes,


Hank - IL

---

Email received: The Smoke Sprayer works great. I love it.


Erv - MN

---

Email received: Hi Ian, I just received the Smoke Sprayer and it is fantastic!!!
It is a great invention and a no messing around product, in fact something that you should market over here in the UK. I tried it out and it is faultless and the build quality is excellent. I am very pleased with it.


Kindest Regards, Tony - UK

---