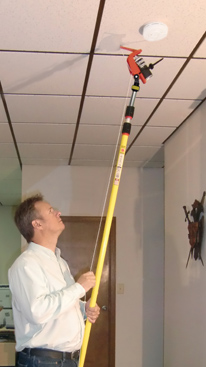 Home
What People are saying
Contact Us
Products:
Smoke Sprayer
Smoke Alarm Test Poles
Testimonials:
Thank you for your smart thinking on the UPS. The Smoke Sprayer arrived on Friday as planned and I used it on Saturday. It worked great, It cut the time it takes me do my buildings in half and saved a bunch of effort not dragging a ladder around. Thanks again!!
Chris M
The Smoke Sprayers work great. I bought a 24ft telescoping pole and it works just fine in conjunction with your attachment and our "Can of Smoke". I recommend marketing your product to other alarm companies who perform fire inspections in commercial environments. I have a total of $75.00 invested in my setup. Your closest competitor, a manufacturer of specifically designed devices, which basically do the same, come in around $400.00. Some up to $600.00. Good luck with your product.

Casey - MO
I have received the Smoke Sprayer already today and it has exceeded my expectations for quality of construction. It looks like it should work and last for a very long time. I think your product has paid for itself already! I am very pleased. Thanks.

Tom
www.pestcontrolbuzz.com
www.gotchasprayer.com
www.killingwasps.net
www.4mostinnovations.com
www.waspkiller.net
For orders outside of the continental US:

All shipping outside of the continental US must be quoted before the order can ship. Either email kim@pestcontrolbuzz.com or call us at 419-628-2812 (EST).

All orders outside of the continental US are subject to:

Additional shipping charges
Duties
Customs
Taxes
We do not markup these charges, and they can add up.

If you order directly from our website and you specify a shipping location outside of the continental US, we will email a freight quote to you. If you do not accept the additional freight, we will refund your money minus a 6% credit card processing fee. We are charged by the credit card companies to process orders and then charged again to process credits. We do not markup these charges.

All of our products attach to extension poles with a standard American threaded tip. The connector will not screw onto a metric or tapered extension pole commonly found outside of the US.